Full-Time MBA
Have you ever considered attending one of the most prestigious Latin American business programs? COPPEAD Graduate School of Business is a top-notch public institution that offers a 100% tuition free Fulll-Time MBA program, fully taught in English. COPPEAD is one of the best business schools in the world, listed more than 11 times in internacional rankings, due to its top quality standards.
The Full-Time MBA program receives regular and exchange students from all over the word, promoting a truly international environment. The school has also partnerships with 40 business schools in most continents, giving the student an opportunity for a truly international experience. The course accelerates careers, shaping future leads with strong theoretical concepts aligned with best practices implemented across multiple organizations. Our more than 1.000 alumni are executives and entrepreneurs working in several areas all around the globe, forming a cohesive network of Global Leaders.
If you want to become a well-prepared business professional, you should consider this life-changing experience.
Duration
540h in 18 Months
Classes
During the Morning
New Cohort
Start in February of each year
About the Course
For Coppead, the development of a leader should be based on the articulation of several initiatives of personal transformation:
Solid and broad conceptual knowledge in business
Development of critical thinking to a position of protagonism in the business scenario
Development of soft skills
Strategic career planning
The program offers an intensive 540 hours of courses (mandatory and elective) associated with other activities, such as summer jobs and the exchange program.
The Full-Time MBA has 3 pillars:
1. CUTTING-EDGE KNOWLEDGE:
Solid conceptual formation in business management through a wide range of courses to build a general management training. During the first year, you should take the courses on campus (nowadays online classes via Zoom). In addition to the core courses aligned with the best Full-Time MBA programs in the world, the program also offers the opportunity to customize the curriculum, in which you can choose the preferred courses to your professional career.
2. CAREER:
Career development activities are offered since the first term, favoring the students' reflection on their professional trajectories and developing strategies of replacement. The career activities culminate with the MBA Internship and the Networking Week, where students begin their return to the job market.
3. RESEARCH:
Individual tutoring applied to the development of a research project, in which the student develops skills such as critical thinking, the application of concepts, field research, presentation and development of scientific articles.
The Full-Time program is based on several activities. You will develop hard and soft skills through the terms, attending courses, interacting with students and professors from many countries and participating in real projects.
2. SPECIAL PROJECTS:
You can join real projects in partner companies, such as the MBA Internship and the Multicultural Projects, a consulting experience with students from the Universiy of San Diego.
3. THESIS RESEARCH:
In the last period of the first year, you will choose your academic advisor and begin to develop your master's research project which should be completed at the end of the program.
4. EXCHANGE PROGRAM:
In the second year, you can broaden your international exposure enrolling for the Exchange Program Module and spend up to 6 months in one top-quality Business Schools. The Full-Time MBA may last from 18 to 24 months, depending on how you personalize your experience. The master degree is only obtained after the thesis approval.
The program can last from 18 to 24 months, depending on the activities that you add to your experience, such as the exchange. The title of master is obtained from the defense and approval of your thesis.

Classes Taught in English
International Environment
Scholarship for all Students
The course is 100% tuition free and it grants a diploma from the Federal University of Rio de Janeiro (UFRJ). The students usually receive scholarships from government funding agencies such as CAPES, CNPQ and FAPERJ; however, the amount of scholarships is not always enough for the whole class.
That situation, plus the vast economic crisis caused by the coronavirus pandemic, has led the school's board of Directors to ensure financial support for all those students who don't have any other formal support. The Program, financed by the school itself, will pay a scholarship for those who do not receive grants or are not working. The amount is the same as provided by the government entities and will be guaranteed until the student obtains another source of remuneration, a government grant or graduates from the master's program. The scholarships will be distributed according to the class analysis and allocation of scholarships from the funding agencies.
Student Profile
1. Professionals interested in pursuing a global career
2. Professionals interested in accelerate their careers
3. Professionals interested in accelerate their careers
Graduation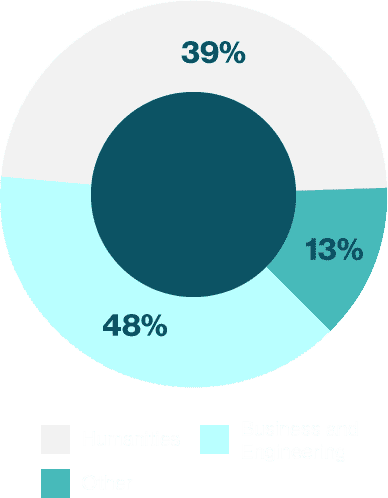 Nationality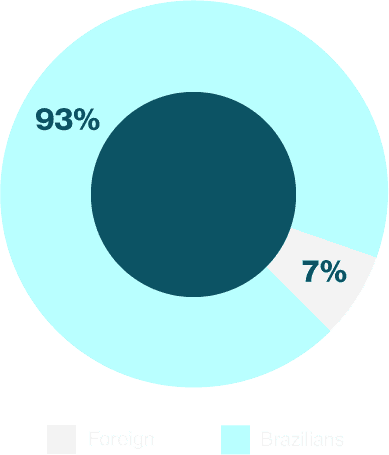 Gender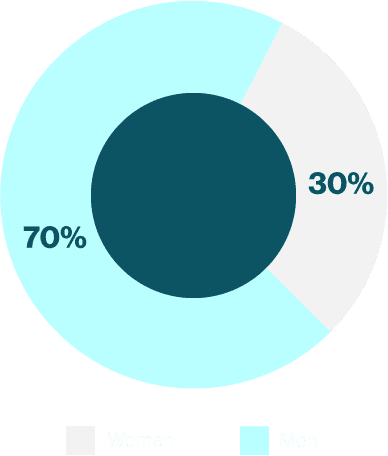 Age Range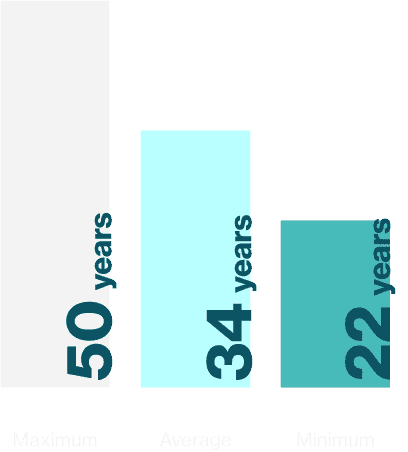 You will immerse in an international environment from day one. COPPEAD receives regular and exchange students from many countries, such as France, India, Germany, China, Colombia, among others. There are two strategic projects in the international department: Multicultural Projects and the Exchange Program.
Multicultural Projects
This one-week program consists of graduate students from the University of San Diego working together with our students in projects for Brazilian companies addressing current and significant problems identified by these companies. Participants are divided into mixed teams and receive a project in which they work together and present their findings to a faculty council of the University of San Diego, COPPEAD and representatives of the company. The course is a formal discipline worth credits for regular master students.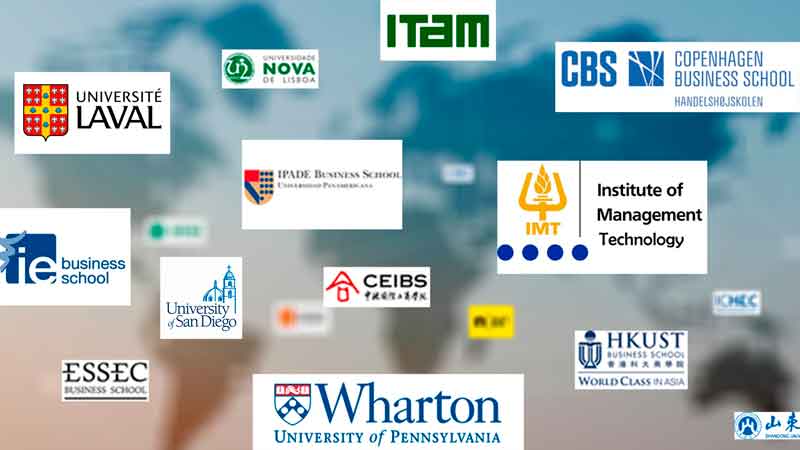 Exchange Program Module
Study up to 6 months in one of the 40 business schools around the globe and enrich your experience. You will get to know better other cultures, expand you network and acquire business knowledge. Some partner schools:
Wharthon Business School (EUA)
CEIBS (China)
IE- Instituto de Empresas (Espanha)
Essec Business School (França)
Ipade Business School (México)
Click Here to learn about the agreements and other partners.
Coppead offers several initiatives to support you in the process of strenghten connections with the job market. The schools runs activities such as:
Career Development and Management Consulting Skills courses
Individual meetings with the Vice Dean of the Program
Project with real companies like Multicultural Projects and

MBA Internship

Events with alumni and executives like Networking Week
MBA Internship
At the beginning of the second year of the program, Full Time MBA students have the opportunity to participate in a MBA Internship and begin to apply their acquired knowledge in real companies. During about 8 weeks, students participate in challenging projects in real companies and have the opportunity to familiarize with the company, its core business and to develop a network that can make a real difference in their career. Some full-time positions have already become available for students following a successful MBA Internship experience, which demonstrates the importance of this program in the process of employment after completion of the program.
Click here to to know more about the program and meet our students (in portuguese)
Networking Week
The Networking Week is relationship platform connecting our students with companies, in order to help students in getting back to the job market, or achieving better positions. The event usually takes places at COPPEAD or at companies headquarters. Moren than 30 companies from different sectors participate each edition, providing an insightful opportunity for our graduating students.
Partner companies have a key role in the program, from participating in debates and courses to hiring the students. Many of them have collaborated in special and temporary projects (Multicultural Projects and summer jobs). Since the classes are during the mornings, companies have been encoraging their talented employees to enroll the program and making special arrangements with them. Some of our partners in different aspects are:
Accenture
Ambev
BAT
Boston Consulting Group
BTG Pactual
Bain Consulting
Bogari Capital
Coca-Cola
Descomplica
Engie
GSK
Grupo Globo
IBM
Kraft Heinz
L'Oréal
McKinsey & Company
Microsoft
Lee Hecht Harrison
Sony Music
Simens
UBER
Facebook
Shell
United Healthcare
Vale
Tenaris
VIVO
Petrobras
Google
Vinci partners
Embraer
Icatu Seguros
At the end of the program, students must develop a research project under the supervision of a COPPEAD professor who should be presented in the format of an academic paper. This activity aims to develop students' research skills by combining the academic support of knowledge production in each area with the existing market dilemmas. These articles can be presented at conferences and published in national and international journals of relevance.
Research Lines:
Those interested in participating in the Full-Time MBA program must hold an undergraduate degree from a recognized university. Strong academic background, maturity, professional experience and English proficiency favor the admission of a candidate. The academic capacity and international motivation for advanced studies in Business Administration are also considered, since the full commitment of the student to the program is expected. Detailed requirements and registration steps can be checked in the documents below. For more information about VISA and other requirements to study and live in Brazil, please visit the International Relations Official page.
Steps
1. PROFICIENTS TESTS:
There are 2 kinds of entry: ANPAD (Brazilian test) + TOEFL or GMAT. There are limited vacancies for each and you must present the tests results during registration process.
3. ONLINE APPLICATION:
Fill in the online application form and present the results of the proficiency tests and registration documents.
4. AVALIAÇÃO E CLASSIFICAÇÃO:
O comitê responsável pelas matrículas avaliará todos os documentos apresentados pelos candidatos.
5. RESULTS:
Final results will be made available at Coppead's website. If you are approved and confirm your interest, you will receive instructions for enrolment register.
DEADLINES
November 28, 2021 – GMAT submittions
December 28, 2021 – Teste ANPAD + TOEFL submittions

Any doubts?